by Alex Gonzalez
I was a teenager in the 1990s when Americans saw for the first time the big grow of Hispanic population, especially Mexican-Americans, in the Southwest. At the time, The so-called conservatives from the National Review the Hoover Institution, started coming up with clever names to demonize Mexicans and Mexican-American population and warning the nation of a cultural demise caused by the wave of Mexican Latino immigrants.
In California in the 1990s, these so called conservatives and Republicans crafted menacing titles like "MEXIFORNIA" insinuating that states like California will turn into Mexico – a third world – and as precaution the state needed do something; the state government must retaliate by creating punitive laws like Prop 187 to cut access to any source of government agencies to children, even if education is Constitutionally protected. And for the most part, this is the same dishonest argument many of so-called "limited government conservatives" always have used in the last twenty years to justify laws, at the federal and state level, under the pretense of 'the rule of law," or "American social decline" to demonized Mexicans, Mexican-Americans. From American losing their jobs, increase in crime, loss of a "white identity,"these naysayers always blame Mexican-Americans and Latinos because in their minds, the growth of Mexican-American community was is a symbol America's racial and cultural demise and loss of "white" power. As a result, for opportunistic Republicans in "conservative circle" blaming Mexico and the Mexican-American communities was the norm to predict that economic decline of the Southwest, specifically in states where Latinos, mostly Mexican-Americans, soon were going to the majority.
Twenty five years later, the Southwest has become the economic engine of America and Mexican-Americans and Latinos are almost half the population in the region.
In the last twentieth years, the continued growth of the Southwest, fueled mostly by the growth of Latinos, is the biggest takeaway from the new population estimates that the Census Bureau released in late December. They were the last before the 2020 decennial census, which will be used to reapportion both congressional seats and Electoral College votes among the states.
According to the U.S. Census estimates, the population projections points toward a ten (10) seat change over 17 states across the nation by year 2020. States that will gain single seats include Arizona (1), Colorado (1), and Texas (3). And while California may lose one seat, California has maintained a healthy population stabilization since 2014 at around 39-40 million.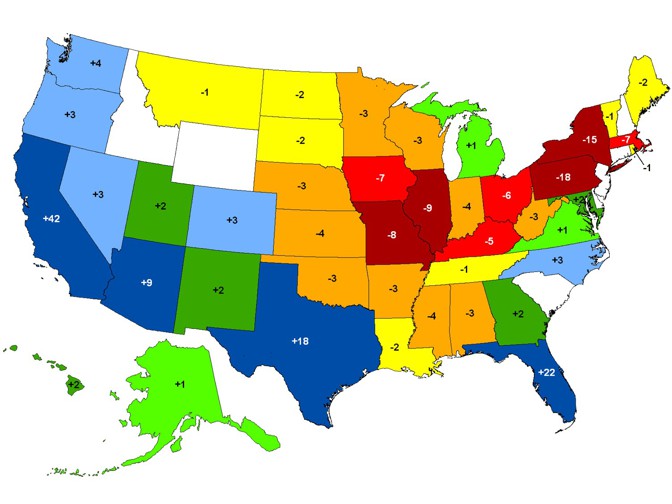 The reapportionments after both the 2000 and 2010 censuses produced comparable shifts in representation from the Northeast and Midwest to the Sun Belt. If the projections for 2020 prove accurate, it will mean that since the start of this century, more than 30 seats and Electoral College votes will have shifted from the Rust Belt to the Sun Belt, with no Rust Belt state gaining a seat at any point. A map from Election Data Services tracking the cumulative impact of reapportionment from 1910 through 2010 captures an even more dramatic shift of power and population to the Sun Belt states.
Politically speaking, these are House Congressional seats and College Electoral Votes that will be taken from Upper Mid-West and the Rustbelt and reapportioned to the Southwest. Therefore, the growth of the Mexican-American and Latino population in the Southwest, especially in California and Texas, is creating a shift in political power by pulling congressional seats from the Rustbelt to the Southwest; these are the real politcal immediate redistricting changes that will occur in 2021 with the first election to be held in the Mid-Term of 2022, and subsequently for the Presidential race of 2024.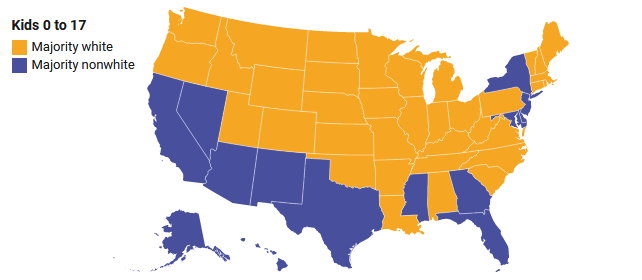 Moreover, both Texas and California are already 'minority-majority" states with Latinos making more than 40% of the population and in Arizona, and Nevada "nonwhite people already constitute a majority of the population ages 18 to 64 in Texas and Nevada," according to William Frey, Brooking Institution demographer.
Population growth has also led to economic growth. California is a heavily urban majority-minority coastal state and California is doing "awesome." the state is in much sounder fiscal shape; while federal deficits are soaring again, the state has erased its red ink and even stashed $18 billion in a rainy day fund.
One of the most draconian predictions that conservatives like Stephen Moore of the Heritage Foundation constantly argue is that the state has been losing population due to its high taxes and too much immigration – Hispanics/Mexican-Americans – as a result, "whites" are leaving to other states like Arizona and Texas. But, as the new Stanford research shows, those who leave are lower income, but the state also gains higher income educated residents and "both in absolute terms, and compared to sensible control groups, we find little migration response to changes in top tax rates," the study concludes. Moreover, according to new population data by Pew Trust, California has a 0.15% better population increase at 0.78% than the national average at 63%. The population of California has increased to almost 40 million (39, 557,000) currently from 36,600,000 million in 2008 – see population growth map below.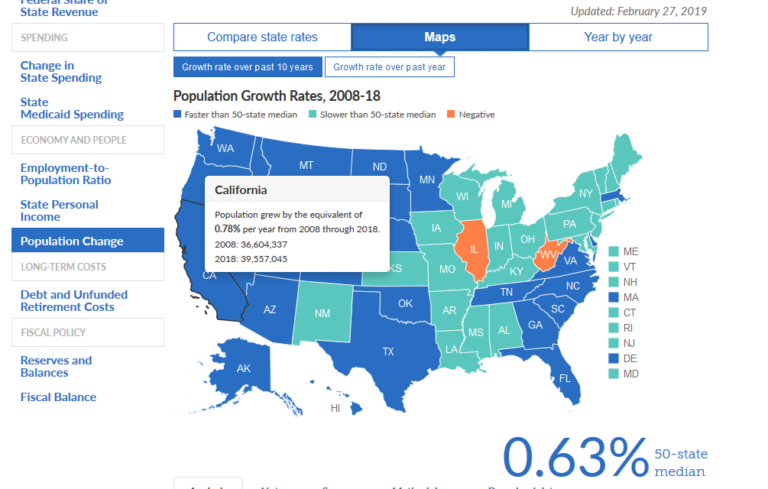 As 2020 begins, California's economy is the strongest in the nation, with a gross domestic product (GDP) of nearly $3 trillion, representing the fifth largest economy in the world with an estimated $18 billion of in a rainy day fund.
The second frequent argument against California by "conservative" pundits is that the high number of immigrants and high taxes was going to push out business leading to economic decline. However, the state continued to boom at higher rates than most Red states, including those with lower taxes and no state taxes. The Brookings interactive geography of prosperity map below shows that California has stronger "Vitality Index" than any other state in the country.
Click on Vitality Index to see how your county & state stack up: https://brook.gs/2H7xYQf
.
California is America's largest state economy
Even Conservative think tanks like American Enterprise Institute (AEI) now have recognize that California is now the world's fifth-largest economy, up from eighth a decade ago, producing nearly $3 trillion of economic output in 2018, more than the United Kingdom's GDP last year of $2.8 trillion. Consider this: California has a labor force of 19.6 million compared to the labor force in the UK of 34 million (World Bank data here). Amazingly, it required a labor force 75% larger (and 14.5 million more people) in the UK to produce the same economic output last year as California! That's a testament to the superior, world-class productivity of the American worker.
How its demographics and diverse economy plays a big role in it. Higher education, a dynamic immigrant labor force, high tech and agriculture is the real source of the state.
From the Pacific to Gulf of Mexico
America's second largest state economy is Texas producing nearly $1.8 trillion of economic output. But, Texas is a thriving, not because is a "red state" state, but because it became the heart of NAFTA. Texas is the only state in West with real economic growth since the start of the recession – see to Western States Lead the Pack in Key Economic Indicator by Pew Western states, and Texas, are only the state that have recorded three times the rate of growth in total personal income as last-place Connecticut (see map below).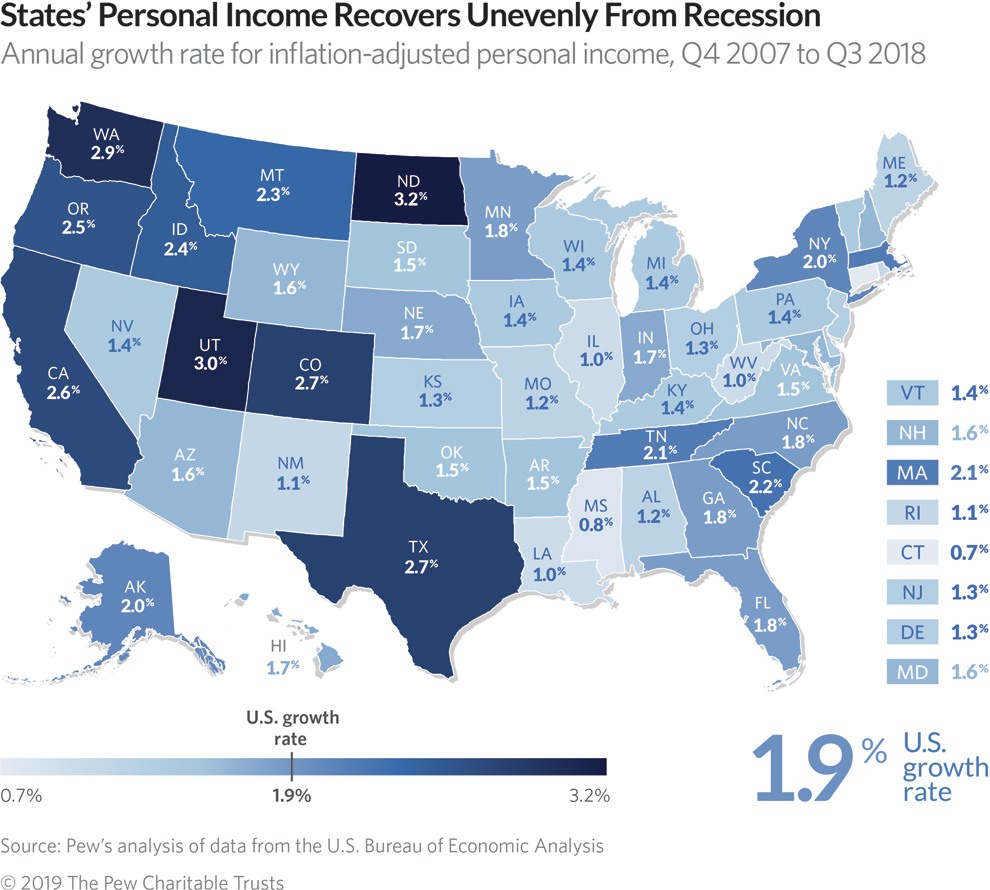 However, unlike other "red states," what makes Texas such successful red is its geographical location. These 1250 miles of border with Mexico is filled with border communities that cross the border each day; an estimated of 1 million of people cross the border legally and about $1.7 Billion trade crosses the U.S.-Mexico every day. California is the largest economy in the nation, but only shares 400 miles of border with Mexico.
These are more facts about what makes Texas successful
Texas is the most Mexican state in the Union:
Mexico is Texas' number importer; about 40% of Texas exports go to Mexico.
44% of all NAFTA trade come through Texas.
Bilateral trade between Texas and Mexico is $187 Billion.
Texas is regionally connected to the industrial heart of Mexico with highways linked to all NAFTA routes.
Both California and Texas have similar demographic populations where 40% of the states' populations are Hispanic; but unlike California where 80% of the "Hispanic/Latino" population is Mexican-American, in Texas 90% of all Hispanics are Mexican-American.
Texas has more "sister cities" in Mexico than any other state.
Furthermore, the fact is that Texas has had a strong pool of Mexican immigrants who came to the U.S. during the '80s, '90s and early 2000s and their U.S.-born children are "playing a key role in keeping the population of Texas close to necessary levels of growth."
In Texas, one in six people living in Texas is an immigrant. A similar proportion is second generation—people born in the United States with an immigrant parent. Although the foreign-born population in Texas is more diverse than ever, it is less diverse than in the rest of the country. The majority of Texas immigrants—60 percent—are from Mexico. and According to Dallas Federal Reserve, "working-age immigrants contribute the most to the economy and to tax revenues. Younger immigrants are expensive as they move through the U.S. education system but will eventually enter the workforce." It is no secrete that Mexicans immigrants are a big factor in the "Texas Miracle."
New Mexico is home to the largest share of Hispanics than any other state, and Like California and Texas, New Mexico economic development is tied to trade with Mexico under NAFTA. Since 2007, New Mexico's exports to Mexico by 350%, the most among any southern border state.
Similarly, Arizona's largest market was Mexico. "Arizona exported $7.7 billion in goods to Mexico in 2018, representing 34 percent of the state's total goods exports.
The economy of California represents 16-17% of the U.S. GDP followed by Texas with 12%. California and Texas alone make almost 30% of the total U.S. GDP. When we add the economies of Arizona, New Mexico and Nevada, the Southwest has become almost 40% of the U.S. GDP.
Unlike what "conservatives"argued twenty years ago that the southwest will turn into a third world region, the growth of the Mexican-Americans and Latinos communities have turned the region into the wealthiest in the nation and Latinos soon will be the majority in the a southwester Corridor from Texas to California—states with largest Electoral Votes.
Ironically, the dire cultural and economic predictions for the Southwest twenty-five years ago have occurred in regions with little or no Immigrant Latino population like the Rustbelt and Appalachian. In his book "Alienated America: Why some places thrive and while others collapse," Timothy P. Carney's analysis identifies the true factor behind the decline of the American dream: the collapse of the institutions that made us successful, including marriage, church, and civic life
It's no wonder Donald Trump proclaimed "the American dream is dead." It shouldn't have surprised anyone that voters agreed. That dour proclamation sounded absurd to many elites, who lived in places where the american dream was alive and well, but it resonated in working-class places. Any purely economic account of the working-class woe falls short.
In fact, It is the American "white" political and cultural Elites in those region that have failed white "working-class places," and this has led to resentment in place like the Rustbelt and Appalachian. There are places where "wages still lag, Suicide, overdose, and other deaths of despair are rising ad marriage is on the wane."
Timothy P. Carney is not a lefty writer, and his cultural views and analysis are similar to J. D. Vance's book's "Hillbilly Elegy: A Memoir of a Family and Culture in Crisis" about the lives of poor white people. J. D. Vance's family in Kentucky struggled with poverty and domestic violence, of which he was a victim. His mother was addicted to drugs—first to painkillers, then to heroin. Many of his neighbors were jobless and on welfare. Vance escaped their fate by joining the Marines and serving in Iraq.
In many ways, "Hillbilly Elegy" tells a familiar story. It's a regional memoir about Vance's Scots-Irish family, one of many who have lived and worked in Appalachia for generations. For perhaps a century, Vance explains, the region was on an upward trajectory. Family men worked as sharecroppers, then as coal miners, then as steelworkers; families inched their way toward prosperity, often moving north in pursuit of work. (Vance's family moved about a hundred miles, from Kentucky to Ohio; like many families, they are "hillbilly transplants.") In mid-century Middletown, where Armco Steel built schools and parks along the Great Miami River, Vance's grandparents were able to live a middle-class life, driving back to the hollers of Kentucky every weekend to visit relatives and friends.
Middletown's industrial jobs began to disappear in the seventies and eighties. Today, its main street is full of shuttered storefronts, and is a haven for drug dealers at night. . It is one of those contradictions in American politics where race plays role. The same so called conservatives and Republicans, who predicted the moral decay and economic failure of the Southwest due to Mexincanization of the region, will never address, or publicly admit, that what has happened in Rustbelt and Appalachian is failures of white Elites and local political establishments because it doesn't fit their political agenda of blaming Mexicans and Latinos immigrants for everything that has gone wrong with the nation.
In the Rustbelt and Appalachian, working-class neighborhoods hit hard by the decline of the U.S. industrial base, are crumbling under the weight of deepening social and economic problems.  The buckling of social institutions fundamental to American civic life is deepening a sense of pessimism and disorientation, and Republicans will say nothing about these  deepening a sense of pessimism and disorientation because these are potential "white" Republican voters. Republicans, instead, will continue to use the Southwest and the border like a Piñata to shift attention away from their failures in Rustbelt and Appalachian. In the meantime, Mexican-Americans and Latinos across the Southwest will continue to increase their political and economic power turning the region into the successful New America.
Alex Gonzalez is a political Analyst, Founder of Latino Public Policy Foundation (LPPF), and Political Director for Latinos Ready To Vote. Comments to vote@latinosreadytovote.com or @AlexGonzTXCA
.