by Alex Gonzalez
2020 will marks the first year Hispanic voters will overtake black voters as the largest bloc of eligible minority voters. But before that, Hispanic voters need to pick who they want as the Democrat challenger to beat Trump next year.
The Next Democratic Debate will be on September 12 in Houston. By now most Hispanic voters who are enthusiastic about partaking in primaries next years have had exposure to all Democrat candidates vying for their vote. After two debates, and countless town halls, Hispanic voters by now have an idea where each candidate stands on issues driving the presidential primary such of healthcare, immigration, "tax cuts," jobs/The economy, tariffs, growing inequality, racism, and "white nationalism."
So here is what the polls say about who Hispanic voters think has more realistic policies, or who Hispanics think has a better chance to beat Trump – electability.
If you need feedback, you can read this about Latino candidates and electability, and some poll by state.
I have been tracking this Economist/YouGov poll since March because it's one of the most comprehensive polls and is also done weekly; here is the most recent. The Econismt/YouGov poll started the "first choice question in late May with the demographic breakdown included with 1500 sample of respondents. I have seen other polls (see chart below), but they tend to be smaller with only 500 respondents and they are not very consistent when in comes to Hispanic demographic breakdown .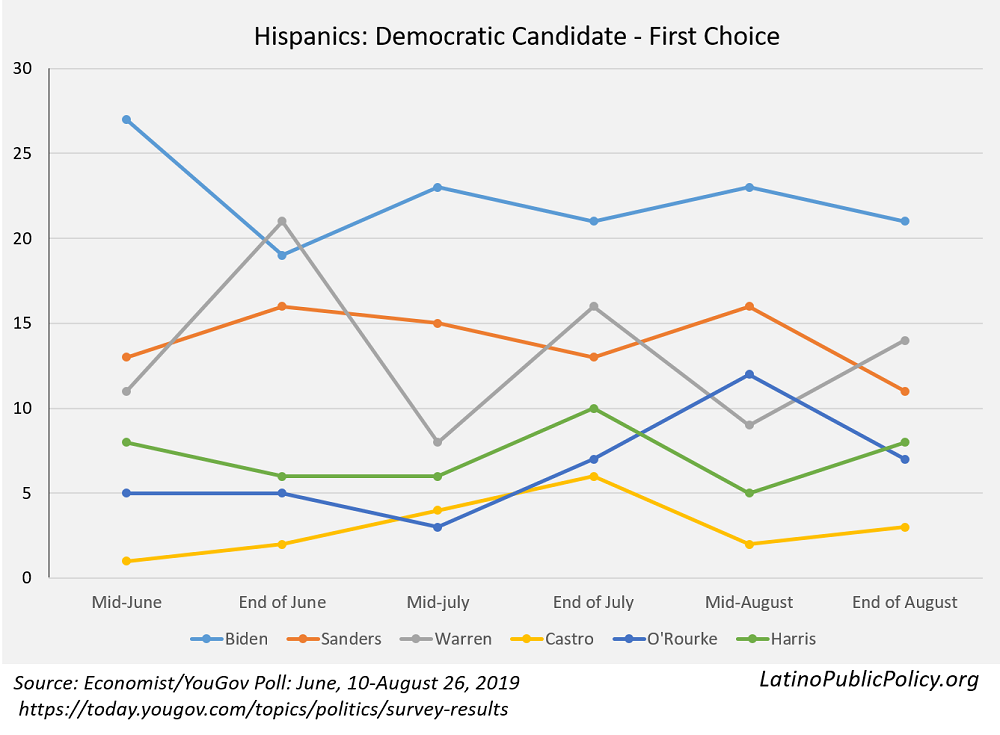 Click on Image to enlarge
Though, Beto and Julian Castro are not in the top four, I added them since both Beto and Castro were supposed to be among the most well known candidates among Hispanic voters. Moreover, Beto and Julian are from Texas, state with second largest bloc of Hispanic voters.
Sen. Kamala Harris from California, state with the largest bloc of Hispanic voters, but has not been able to move beyond 10%.  Conversely, the chart shows that while Biden has had slight decline from the 30s, his has maintained a steady and solid lead  among Hispanics with Sanders having lost support among Hispanics.
Similarly, in a POLITICO Tracking Poll, Using Morning Consult's polling data, they too noticed that Bernie Sanders was the favorite among Democratic Hispanic voters before Joe Biden declared his candidacy before May.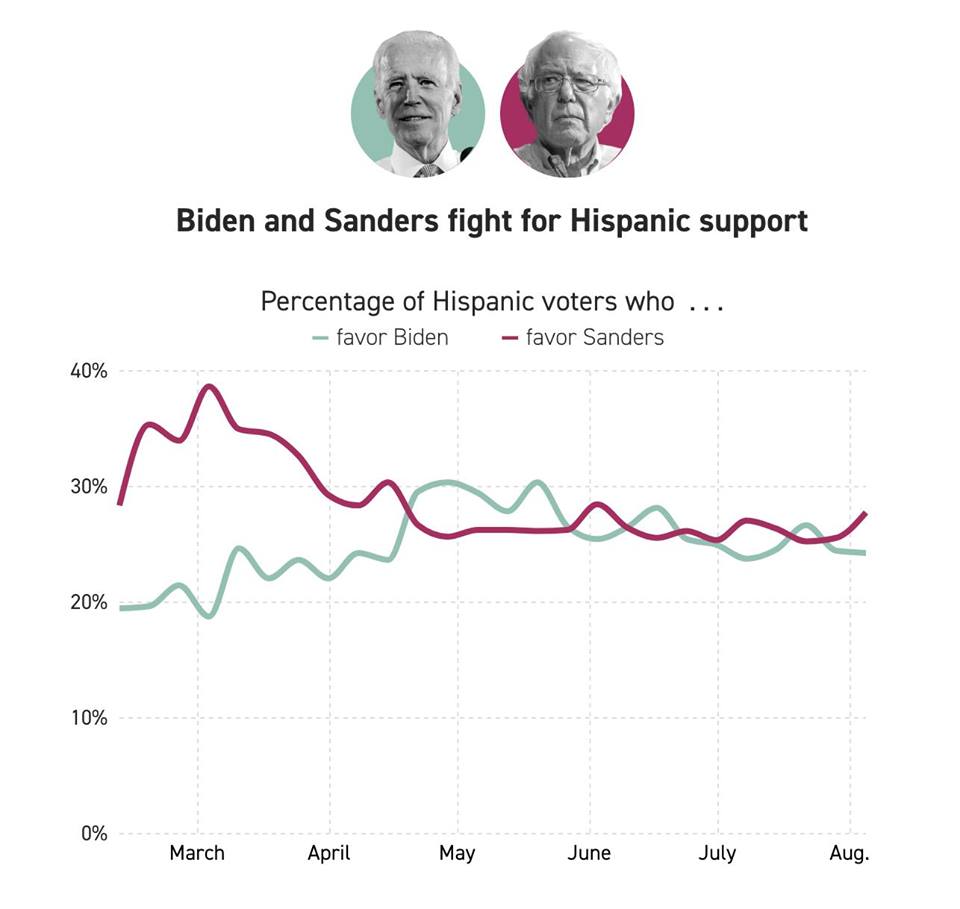 I tryed to find more about this POLITICO/Morning Consult poll looking for more details, but i was not able to find it. however the poll also show Biden leading and Sanders losing support among Hispanics.
You can see the general national polls here at RealClearPolitcss tracking poll
Alex Gonzalez is a political Analyst, Founder of Latino Public Policy Foundation (LPPF), and Political Director for Latinos Ready To Vote. Comments to vote@latinosreadytovote.com or @AlexGonzTXCA